Is there anything better than a leisurely drive with the windows down on a crisp fall day? If you're a fellow fall enthusiast, the changing leaves and fall colors probably give you a dopamine rush, unlike any other time of year. True? Then read on. Here are the best places for fall leaves and those breathtaking road trips around the world.
5 Best Places for Fall Foliage Road Trips (Outside the US)
Lake District, England
England is a staple for its stunning fall foliage. So, if you're considering an extraordinary fall road trip, you'll have many options there. Lake District National Park is at the top of our list for a cinematic state park experience. The fall foliage is rich and deep, each accentuated by its reflection in the water's still surface. You can cruise along the roadside during the daytime or near sunset. Stop to take some photos. Enjoy the graceful solitude. If you travel in late autumn, you can experience a wholly magical trip with these tips for traveling to Europe during the winter.
We hope your trip goes smoothly, but sometimes things don't go according to plan. When travel plans change, travel insurance offers peace of mind and protection when you need it the most. You can get a free quote below.

Lake Bled, Slovenia
This is a great option if you'd rather take a train ride for your fall color fix. You can take a train to Slovenia's Lake Bled during the fall for gorgeous views of the countryside, where you'll see charming towns, farmlands, and rivers, with fall foliage covering the land in between. This destination is known as one of Europe's most delightful train rides, and that's even more true during this crisp season. The moment you arrive, the views are truly epic. We recommend making time to soak them up before moving on or staying the night to relish the sunset.
Kyoto, Japan
The only thing that rivals Japan's cherry blossom season is its scenic fall colors. Across the country, the leaves start to change color in October, and the peak viewing season for fall foliage is around mid-November. If you want to head to Kyoto earlier, we recommend riding through the Kitayama Mountains, where you'll find a variety of fall colors bursting with vibrant orange, red, and yellow. You can rent a car or take the green option by biking. Take your time through different parts of Kyoto to see the full scope of its fall-colored landscapes. As an added bonus, it's usually cheaper to fly to Kyoto during the fall months. You can find more ways to book a cheaper trip with these travel deal tips.
Fundy Coastal Drive, New Brunswick
Want to see stunning fall foliage without flying overseas? Then check out Fundy Coastal Drive in New Brunswick, Canada. This drive lets you take in ocean views and fall colors simultaneously. During autumn, this area sees the highest tides in the world, and you'll be nestled right up against the water on your route. Many compare the leaf colors here to New England–just without the crowds. That makes this destination one of the best places for fall leaves and travelers who prefer some solitude.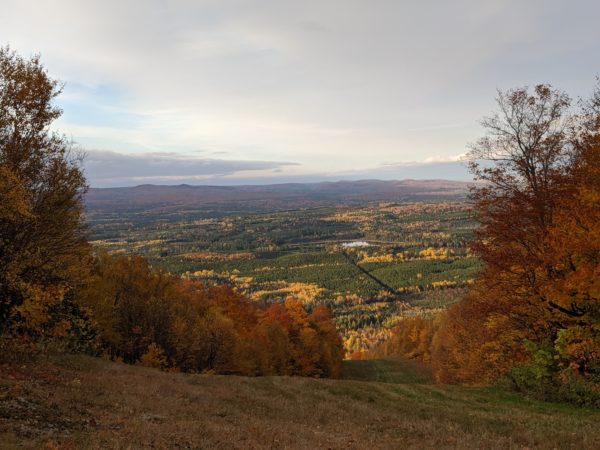 Loire Valley, France
France's Loire Valley is a pretty popular destination – in the summer, especially. But many people don't realize that tourists tend to disappear in the fall. Autumn also happens to be one of the most captivating times in this region. While trailing through, you'll take in the exquisite fall foliage interspersed between enchanting castles. From late April through early November each year, the Chaumont-sur-Loire hosts an international garden festival, and if you attend during the fall, you'll see the changing fall foliage as well. As a cultural bonus, you can sip delicious, world-renowned Loire Valley wines while there. If you schedule a short trip to Paris while in the area, check out this packing guide before you depart!
Where have you seen fall in all its glory? Share a picture of those fall colors with us on Facebook, Twitter, and Instagram (or tag us @insureyonder). You can also find more travel inspiration to satisfty your wanderlust.