Updated on 6/24/2022
Chances are, you've already heard of Fort Lauderdale's reputation as the yachting capital of the world. With upwards of 50,000 registered yachts, it's certainly earned that nickname. What you may not know, though, is that Fort Lauderdale is also home to Port Everglades, one of the busiest cruise ports in the country.
In fact, we'll go one step further and make the bold declaration that Port Everglades is the cruising capital of the country! That's the type of claim you can make when the port in question boasted close to four million passengers in 2017 alone.
Keep reading for everything you need to know about this cruise port in Fort Lauderdale and its cruising options. We'll see you down there on the next mega cruise. Make sure you have cruise travel insurance before you depart though!

Fast Facts about Port Everglades
Port Everglades is a pretty busy port. There are cruises departing almost every day, on top of its status as one of the largest industrial ports in the country. What does this look like in raw numbers, though? Well, here are some fast facts and statistics about Port Everglades in Fort Lauderdale:
The economic value of Port Everglades is monumental: it exceeded

$34 billion in 2018 alone

Port Everglades employs over 13,000 people

Port Everglades is home to thirty-nine cruise ships representing ten different cruise lines

Port Everglades in Fort Lauderdale

welcomed 3.8 million cruisers in 2017

Port Everglades holds the world record for most cruise travelers departing in a single day

The two largest cruise ships in the world call Port Everglades home: Royal Caribbean's

Symphony of the Seas

and

Harmony of the Seas

Port Everglades has won a host of awards, including CruiseChat's Favorite U.S. Embarkation Port award in 2016 and Porthole Cruise Magazine's Best Domestic Port award in 2016

Port Everglades is the largest container port in Florida

Port Everglades is one of the most active cargo ports in the country
Now that we know a bit more about Port Everglades, let's take a look at how it stacks up compared to Port Miami.
Fort Lauderdale Cruising vs. Port Miami
There's only one other port in the entire U.S. that can compete with Port Everglades. We're talking about Port Miami, located less than thirty miles south of Fort Lauderdale!
How do these two ports compare? Well, each has its own strengths and weaknesses. We personally favor Port Everglades for vacation, but that's likely because it offers more European and North Atlantic cruises and we love exploring Europe, especially in the winter!
Port Miami is home to more than fifty different cruise ships representing twenty different cruise lines. It specializes in cruises to the Caribbean, Central America, and South America. Port Miami affords more traditional shopping options, while Port Everglades is more specialized in cruising supply shopping.
This port also provides a lot of commercial shipping options and is the second-biggest container port in Florida. It is the closest port to the Panama Canal and has boasted more than eight million tons of shipping done in 2018.
Your choice of Florida cruise ports will likely come down to exactly where it is you're cruising. If you're looking to travel to Cuba, then Miami is probably going to be your choice. If you're looking for an international adventure in one of the top travel destinations for Baby Boomers, then Fort Lauderdale is where you'll want to depart from.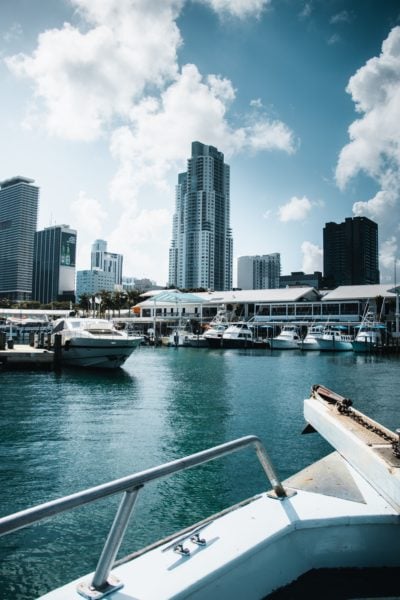 The Final Word on the Cruise Port in Fort Lauderdale
Port Everglades is our pick for the cruise capital of the United States. It has something for everyone from family vacations to spur-of-the-moment student trips. Its thirty-odd ships and ten different cruise lines are sure to be perfect for whatever type of cruise you wish to take. Port Everglades also gets bonus points for being very senior cruise friendly.  
Whatever type of adventure you're planning, make sure to get a custom travel insurance quote first! Our Instant Quote is quick, convenient, and will match you with the best possible cruise insurance options for your unique needs.
Tags: cruise