For individuals who use wheelchairs or have disabilities that require them to get around differently, accessibility is incredibly important and can make the difference between being able to participate in an activity or event or not.
While it would be ideal for every destination to be accessible to people of every different kind of ability, that's not necessarily the case. That said, there are some cities that have made great efforts to be as accessible as possible. So, what makes a destination accessible? Here's what we're taking into consideration when looking for accessible travel destinations: 
Is it possible for individuals who use wheelchairs to access public transportation? 

Will high curbs make it difficult for wheelchair users to get around?
If you or someone you'd like to travel with is looking for accessible tourism and accommodations, check out these destinations:
| | |
| --- | --- |
| | London, England |
London is one of those cities that has really gone the extra mile to ensure that its streets, accommodations, restaurants, historical sites, and more are as accessible as possible. Most attractions are accessible, including Buckingham Palace, the National Gallery, the Tate Modern Museum and the Tower Bridge. The same goes for accommodations, from international chains to smaller boutique hotels. London's official visitor guide has a whole section dedicated to accessibility in an effort to make it as easy as possible for individuals with disabilities to get around and tour the city. There's even a website called AccessAble dedicated to searching for accessible tourism in the city. AccessAble allows you to search based on venue type and location, so you can make sure that you're going to spots that will work well for you or have the services you need. 
| | |
| --- | --- |
| | Dublin, Ireland |
We recently shared a checklist of the things you should see, do, and eat while in Dublin. Because this old European city is covered in cobblestone, we wondered how accessible it is for those who use wheelchairs to get around and we were thrilled to find that it is! In fact, most (if not all) of the destinations we included on our list are fully wheelchair accessible, from bars to museums to parks. Public transportation is generally accessible as well. You can find out which stops are accessible for those using a wheelchair here. Many of the city's gorgeous hotels are accessible as well–this list includes a 5 of the best options according to Curb Free with Cory Lee's website, a travel blogger who is in a wheelchair. In addition, Cory Lee notes that the city of Dublin has installed delayed traffic lights in order to provide people in wheelchairs with ample time to cross the street. 
| | |
| --- | --- |
| | Sydney, Australia |
Public transportation in this part of Australia, including taxis and ferries, is often wheelchair accessible, making it possible to get around to see all of the beautiful sites and experience the city's plethora of fun adventures. If you want to take in great views of the city and experience the beach, for example, you can head to Circular Quay to hop on the accessible ferry to Manly Beach, where the Surf Lifesaving Club offers wheelchairs specifically designed for use on the beach free of charge. This service is available at many of Sydney's world-renowned beaches–check them out here. Many of the city's best-known attractions are accessible, from its botanical gardens to its historical sites to the famed Sydney Tower. If you're planning a trip to Sydney, this guide will help you determine which tour options are best in terms of accessibility. 
| | |
| --- | --- |
| | Helsinki, Finland |
If you're looking for a slightly less traveled European city, we highly recommend Helsinki, the capital city of Finland. Helsinki is home to incredible history, art, food, and people, and the majority of its sites and attractions are accessible. The main reason why this destination is on this list, however, is because it showcases an important option for travelers who use wheelchairs: the accessible guided tour. When you're traveling to a new destination, utilizing a travel guide can be really helpful in navigating the tourism experience. This is true for all travelers and can be especially helpful for people with disabilities. Many tour companies have guide tours that specifically focus on accessible travel. Happy Guide Helsinki is one such company, offering customized tours based on the wants and needs of individual travelers. As the name suggests, they're all about making sure that each traveler is as happy, comfortable, and fulfilled as possible while exploring Finland. Depending on your interests, they can guide you around all of the main tourism attractions including the lesser-known sites, ensuring that each stop is accessible to you or your travel companions along the way.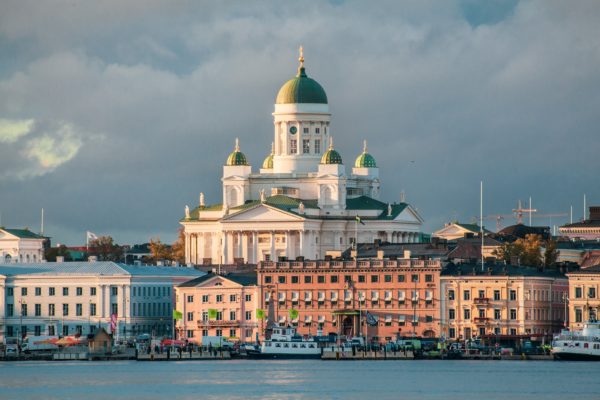 | | |
| --- | --- |
| | Providenciales, Turks & Caicos |
If you're interested in a relaxing and accessible beach vacation, Beaches Resort in Providenciales on the island of Turks and Caicos has you covered. The entire resort was designed to be wheelchair accessible, from rooms to restaurants to the white sand beaches. The resort has ramps, lifts, and elevators throughout its grounds and has beach wheelchairs available on-site. Of the resort's 21 eateries, only 1 called Sky is not yet wheelchair accessible. There are several rooms that have been designed for accessibility, all of which have raised toilet seats, showers that are large enough to roll into or seats, depending on preference, and extended showerheads. You can opt for an all-inclusive option if you really want to kick back and relax without worrying about spending throughout the trip or grab one of their deals to save some money on your experience. Don't forget to insure your trip investment with a travel insurance policy in case something unexpected comes up an ruins your plans.

No matter how or where you travel, the best way to ensure that you're covered in case anything goes less-than-perfectly is to have travel insurance. It doesn't have to be stressful either–you can find the right plan for you and your needs here. 
If you or one of your travel companions uses a wheelchair and has accessible travel tips or destinations to share, please send them our way on Facebook or Twitter so we can continue to spread the word! 
Pro-tip: If you're looking for more information on accessible travel, check out Curb Free with Cory Lee's website. He's traveled all over the world and provides tons of helpful information about accessibility and his experience as a traveler who uses a wheelchair.