Is spending $5,000 and 10 hours of flying really worth it for one afternoon of heli-skiing? Finding the best adventure travel destination can come at a hefty price for such a short-lived experience. Often, thrill-seeking travelers shell out thousands of dollars and hours of flying time just to have a once-in-a-lifetime experience that ends way too quickly.
That's why we want to share travel destinations around the world that offer multiple blood-pumping activities instead of just one. Then, you can get the biggest thrill for your buck.
Here's our list of the most jaw-dropping adventure travel destinations for the adrenaline junkie. We've also included direct links to many of the local tour operators, so you can get a taste of the many adventures ahead.
New Zealand
Adventure activities include: downhill racing, bungee jumping, skiing, skydiving, surfing, hiking
This might be the priciest airfare on the list, but New Zealand will richly reward your adventurous spirit. You could spend a month there without running out of places to see or tours to take.
South Island
Interested in racing down a hill in an inflatable ball? What about bungee jumping from the third-highest platform in the world? You can do both activities on the same day in New Zealand. The country's South Island is a go-to spot for adrenaline junkies for a reason. Its wild west coast attracts surfers and hikers who come for the waves and hills, but many stick around to explore Franz Joseph and Fox glaciers, either by foot or helicopter (or both!).
Wanaka
We recommend planning a hiking break to visit the beloved village of Wanaka—home to a stunning lake and some of the best downhill skiing in the Southern Alps. Consistently ranked as one of the best places in the world to skydive, Wanaka is a quieter alternative to the party-heavy scene in Queenstown (which, actually, is also worth visiting).
If you're traveling to New Zealand, we cannot stress enough the importance of a quality adventure travel insurance plan. There are simply too many things that can go wrong for an explorer in a country that is so laid-back and off-the-beaten path – make sure you're covered to take full advantage of your trip.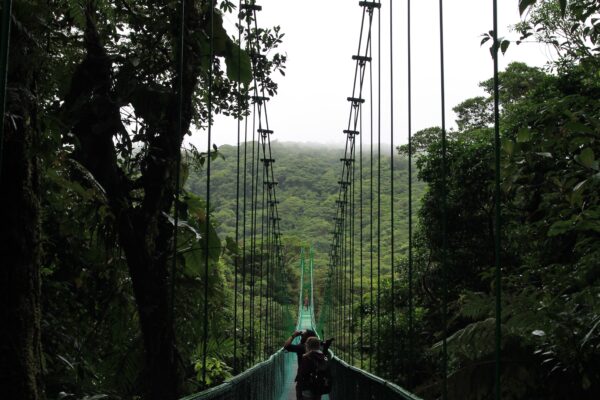 Costa Rica
Adventure sports include: surfing, whitewater rafting, mountain biking, ziplining, cliff jumping
In Costa Rica, adventure is a way of life. Costa Ricans embody the pura vida ("pure life") lifestyle by enthusiastically exploring their rich outdoors. The locals encourage tourists to join the adventure.
La Fortuna
The city of La Fortuna will offer you the most adventure at the lowest price – unless you're an experienced surfer. La Fortuna serves as the entry point to Arenal Volcano National Park. Within this park's gates, seemingly endless thrilling opportunities await. From soaking in volcanic hot springs to whitewater rafting, there's something for every kind of adventurer in this park.
For the more advanced adrenaline junkie, there's mountain biking, cliff jumping, and spelunking to choose from, too. Have you ever wondered where people take all those beautiful photos of Costa Rica's waterfalls, look no further – it's in Arenal. The photo opportunities alone make the gnarly hikes through this park totally worthwhile.  
Monteverde
It's hard to recommend just one spot in Costa Rica because thrill-seeking adventures are available in nearly every corner. We'd be remiss if we didn't mention the amazing Monteverde region in this adventure travel list. Home to the most famous and awe-inspiring cloud forests in the world, Monteverde is truly Costa Rica's crown jewel. Although it's bigger on biodiversity than it is on adventure, the opportunity to zipline across humid treetops and spot over 500 species of birds in a single day creates a breathtaking experience you won't forget–similar to spelunking down a rainbow-streaked waterfall!
You also don't want to forget travel insurance when vacationing in a place like this. Travel insurance is only a fraction of your trip cost, but it could save you in the slim chance something goes wrong during your activities. Then you can have peace of mind because an adventure travel insurance plan will cover medical damages.
We should mention that travel insurance is an important part of making sure you're covered if your activities go awry. We think there's nothing worse than getting hurt in a foreign country AND having large medical bills roll in after you get home. With an adventure travel insurance policy, you wouldn't have to worry about being covered. Compare travel insurance quotes today and get instant peace of mind!
Canada
Adventure tours include: hiking, skiing, mountain climbing
Wherever you are in downtown Vancouver, you're only a stone's throw away from some of the best excursions the world has to offer.
Vancouver
Just north of the United States sits Vancouver, Canada's "fittest" city–and for good reason. Vancouver is flanked by a spectacular bay to the west and craggy mountains to the west and north. World-class skiing awaits the daring at Whistler. Dozens of steep hiking trails offer rewarding views of crystal blue glacier lakes. Looking to get a really good workout? Try climbing Grouse Mountain, a hike so infamously difficult that only the bravest and most in-shape hikers attempt the climb. The few who reach the peak of Grouse Mountain discover a rewarding, panoramic view of Vancouver, along with the pride of conquering one of the region's toughest climbs.
We think there's nothing worse than getting hurt abroad and having large medical bills when you get home. With an adventure travel insurance policy, you won't have to worry if your dangerous activities go awry. Compare travel insurance quotes today and get instant peace of mind!
---
Where would you travel to get the most adrenaline rushes? Let us know on Facebook, Twitter, or Instagram.