Last Updated: 11/5/2021
Table of Contents
All this time in quarantine and you can't stop dreaming about your family's next resort vacation to sunny Punta Cana or Puerto Plata. You may be hesitating to travel to the Dominican Republic due to the coronavirus pandemic and safety concerns. With all of this in mind, don't be so quick to write off this beautiful island as your next destination. Here's what you need to know:
Can you currently travel to the Dominican Republic?
On July 1, the Dominican Republic reopened to travelers. The Dominican Republic Ministry of Tourism has released new safety protocols for all tourism operators, hotels, and restaurants to ensure the health and safety of local residents and travelers. The Minister of Tourism Francisco Javier García stated "All safety measures conform to the recommendations of the World Health Organization and aim to ensure the safety of all those who participate in tourism, from service providers to visitors. Our guiding principle is to generate a framework and tools to offer unforgettable tourist experiences in accordance with the most rigorous standards in the industry."
Other new safety protocols include:
Airport Temperature Checks: All travelers arriving from outside the country will have their temperature checked after landing. If someone has a temperature above 100.6 °F degrees (38 °C) or appears to be suffering from any other symptoms, a rapid COVID-19 test will be provided. In addition, 3%-15% of passengers will be required to adhere to an aleatory breath test. If you show proof of vaccination, then you will be exempt from this breath test. Some travelers will also be selected at random to do a rapid COVID-19 test. This is in place of the previous requirement to submit a negative COVID-19 test.
Traveler's Health Affidavit: As you go through customs, you will now be required to complete a Traveler's Health Affidavit declaring you have not felt any COVID-19 symptoms in the past 72 hours and provide contact information for the next 30 days.
Social Distancing & Masks Enforced: Hotels, bars, restaurants, and tour operators in the country will also be requiring masks (although not required at the beach), enforcing new social distancing standards, and opting for temperature checks of their own. At this time, groups are limited to 10 people.
U.S. Requires Negative COVID-19 to Re-Enter: Starting on January 26, 2021, the CDC will require that all air passengers must show proof of a negative COVID-19 to re-enter the U.S., even if you are a U.S. citizen.
Vaccination Card or PCR Test Required in Establishments: It will be required to show your vaccination card or PCR negative COVID-19 test to enter places like bars, restaurants, shopping centers, stores, gyms, and sports centers.
Is it safe to travel to the Dominican Republic?
On April 15th, 2019, before the COVID-19 outbreak, the U.S. State Department issued a Level 2 Travel Advisory to the Dominican Republic. This advisory was put into effect due to a rise in crime in the country and means to "exercise increased caution" when traveling to the Dominican Republic. The U.S. State Department is currently issuing a Level 3 Travel Advisory, meaning "reconsider travel". 
Does this advisory mean you should avoid planning that future beach vacation? Not at all! Other countries that currently have a Level 2 Travel Advisory are the United Kingdom, France, Turks and Caicos, Jamaica, and countless other popular tourist destinations. If you take normal precautions and understand what the risks are, you will likely enjoy your travels incident-free. A little common sense goes a long way.
If you're looking for another resource to help you in a travel or medical emergency while on your trip to the Dominican Republic, look into purchasing a travel insurance policy. Since most include a 24/7 emergency assistance service, you can rest easy knowing if you need to find a local medical facility or if your passport gets stolen you have a place to go for immediate help. Make sure you are aware of the most common tourist scams too before you leave for your vacation to better protect yourself!
Here are a few tips for traveling to the Dominican Republic so you can keep your trip as safe as possible.
Register for STEP: The Smart Traveler Enrollment Program is a free service for US citizens traveling abroad. The program allows you to register and connect your travels to the nearest U.S. Embassy in the Dominican Republic. Once you register your trip, you will receive safety alerts before and during your trip.
Dress Simply: The most popular crime in the country is a drive-by robbery. The robber usually quickly approaches you on a motorcycle or bicycle, grabs your purse or jewelry you may be wearing, and zooms away, all within a couple of seconds. To avoid this, dress simply, wear limited jewelry and leave the designer purse at home.
Plan Day Activities: A majority of crimes occur during the evening hours so if you'll be planning on going on an excursion or outing, plan to arrive back at your resort or hotel by dusk.
If you're worried about planning a vacation to the Dominican Republic due to crime and safety, travel insurance can provide some extra peace of mind. If there is a travel or medical emergency during your travels, travel insurance provides 24/7 emergency assistance to ensure you and your loved ones are taken care of as soon as possible. Policies also include protection for your belongings should they become lost or taken from you during your expedition. Since the price of a policy is determined by several factors, it's best to compare your options to find a policy that provides the coverage you're looking for at the most affordable price!

What is the safest city in the Dominican Republic?
While some cities might be safer than others in the Dominican Republic, it's imperative to follow the safety precautions above wherever you plan to travel. The most popular destinations and the safest places in the Dominican Republic are Punta Cana, Santo Domingo, and Puerto Plata.
Punta Cana is located in La Altagracia, the Dominican Republic's easternmost province. Despite the deaths that made media headlines in 2019, it's the safest city in the Dominican Republic. Punta Cana's main resort area is patrolled by CESTUR, a police force dedicated to keeping foreigners, resorts, and popular tourist areas safe. You'll find some of the safest places to say in the Dominican Republic here.
Puerto Plata is situated on the northern coast and is well-known for its colonial architecture and the unbelievable sea views from the cable car going up to Mount Isabel de Torres. Similar to Punta Plata, since this city is a well-known tourist destination, crime is low but thefts are common so leave valuables at home or in the hotel safe when taking a day excursion to the fascinating Jewish-influenced city of Sosua.
The capital Santo Domingo located on the southern coast is the largest city in the Dominican Republic and is most susceptible to petty crime. It's not uncommon for muggings to occur in the daytime and scams, especially for unmarked taxis or false police officers.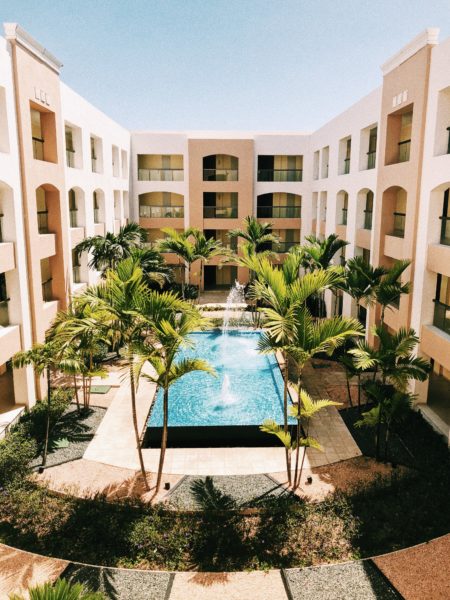 Is the Dominican Republic susceptible to hurricanes?
Hurricane season in the North Atlantic usually occurs June – November with September being the peak month for storms. Yet, in the past 100 years, there have been less than 15 hurricanes or tropical storms that have hit the Dominican Republic. You should still plan that tropical summer vacation but make sure you're well-prepared for hurricane season travel by staying on top of the weather, buying travel insurance as soon as you make a deposit or payment towards your trip, bringing an emergency kit, and remaining flexible.

What are some safe and family-friendly activities or excursions in the Dominican Republic?
As previously mentioned, the Dominican Republic has reopened its borders to tourists. According to the local news station Dominican Today, 11 of the 15 provinces have managed to flatten the COVID curve and there shouldn't be any reason to close the country again.
Here are some safe, "socially distant" and family-friendly activities not to miss during your trip!
Adventure Enthusiasts: Love adding a bit of adrenaline to your vacation? Book a 3-hour white water raft tour down the Yaque del Norte River, the largest river in the Caribbean. Rancho Jarabacoa provides an experience to see the Dominican Republic countryside from the water with a professional guide. Guests must be at least 12 years old.
Learn a New Skill: You're excited to spend your days relaxing at the beach — rightfully so! Why not combine beach time with learning a new skill like surfing? Macao Surf Camp in Punta Cana offers private or group surf lessons for travelers at all levels.
Lagoon Hop: Explore Punta Cana's Indigenous Eyes Ecological Park and Reserve and its 12 freshwater lagoons, 5 of which are swimmable. The extremely clear, deep turquoise waters are a perfect photo opportunity for that family Christmas card.
When should I start planning my trip to the Dominican Republic?
The Dominican Republic has opened its borders to international visitors and will not require a 14-day quarantine after arrival. Airlines have resumed flights to major airports in the country. It's still unknown when cruises will be able to resume their Caribbean routes so it may be wise to postpone the family cruise to 2021 and book a resort vacation this soon instead. The time to start planning is now!
With the start of hurricane season and the ever-changing state of the coronavirus pandemic, be sure to protect your nonrefundable trip expenses with travel insurance as soon as your first deposit or payment is made. If you're confused as to what coverage you need or what insurance company to trust, talk to a friendly travel insurance expert who can walk you through your concerns and provide a quote for your next journey.
Tags: hurricanes, coronavirus